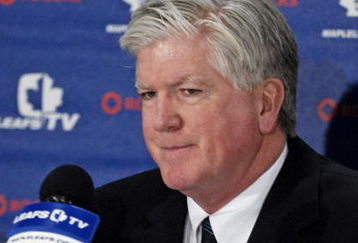 Yesterday marked the one-year anniversary of the beginning of 'the Burke era' in Toronto and it's been a mixed bag so far, in my opinion. I must take off my hat to Matt Burt of TSN.ca for
this balanced assessment of the past year
and what the future potentially holds.
Obviously, the Leafs have been complete crap this year so far and though I was not expecting them to be amazing, I definitely expected more than a 6-11-7 record, leaving them 29th in the NHL. My biggest disappointments so far have been the play of Komisarek (a.k.a. the man who's residential address should be changed to 'The Penalty Box') and Beauchemin, both of whom have been atrocious more often than not. I'm also in disbelief at how often the Leafs have given up the first goal in a game and how that first goal often occurs before the game is five minutes old. Goaltending has been spotty at best, though The Monster has shown flashes of outright brilliance. Toskala has looked pretty shaky and has given up some incredibly soft goals, however he has not been helped out by the porous defence--of all areas of the team, I was expecting the D to be the strongest, but it has often been a disaster as well. And who is putting pucks in the net? Phil Kessel has been excellent since he came back from injury (11 points in 12 games) although I'm still not convinced he's worth what the Buds game up for him, though some fans and pundits would disagree with me. Nikolas Hagman has been another surprise and has played very well, one of the few bright spots for the Leafs--this kid has some real skill. However, these two can't do it all on their own! Do we have a Jason Blake in the house or does he have a severe case of Invisible Man Syndrome?
I realize I get pretty grouchy when I talk about the Leafs but I do figure Leafs Nation deserved a bit more than we have received from this team thus far this season. However, let's evaluate again come March and see whether things have improved at all. I sure hope so because it has been even more embarrassing than it usually is to be a Leafs fan lately and the jokes are getting old!